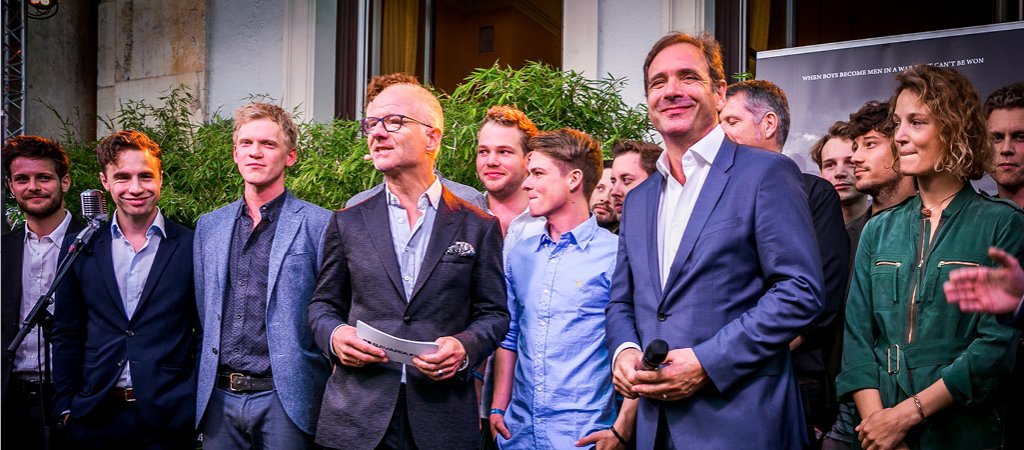 Major event series "Das Boot" set to commence filming in August
Munich – Bavaria Fernsehproduktion, Sky Deutschland and Sonar Entertainment announced today a renowned international cast for upcoming event series Das Boot, including Lizzy Caplan (Masters of Sex), August Wittgenstein (The Crown), Rainer Bock (Inglourious Basterds), Rick Okon (Tatort), Vicky Krieps (Colonia Dignidad), Jonathan Zaccaϊ (Robin Hood), Leonard Scheicher (Finsterworld), Robert Stadlober (Summer Storm), Franz Dinda (The Cloud) and Stefan Konarske (The Young Karl Marx). Budgeted at 25 million Euros, approximately US $28 million, the series is the sequel to the classic film and bestselling novel by Lothar-Günther Buchheim.
Directed by Andreas Prochaska, the 104-day shoot kicks off on August 31st and takes place in La Rochelle (France), Prague, Malta and Munich. The eight-episode event series will premiere in autumn 2018 in Sky territories Germany, Austria, Italy, UK and Ireland. Coproducer Sonar Entertainment will handle international distribution in the rest of the world.
One of the most renowned German-speaking filmmakers, director Andreas Prochaska's credits include Das finstere Tal (The Dark Valley) and Das Wunder von Kärnten (A Day for a Miracle), which was awarded the International Emmy. Prochaska's further accolades include the Deutsche Filmpreis (German Film Award), the Romy, and the Bayerische Fernsehpreis (Bavarian Television Award).
Tony Saint (Margaret Thatcher: The Long Walk to Finchley, The Interceptor) and Johannes W. Betz (Der Tunnel, Die Spiegel-Affäre) are the head writers. Executive Producers are Moritz Polter (Spotless, Crossing Lines) and Oliver Vogel (Dengler, SOKO Stuttgart) for Bavaria Fernsehproduktion; Marcus Ammon and Frank Jastfelder for Sky; and Jenna Santoianni (Taboo, The Shannara Chronicles) for Sonar Entertainment.
Moritz Polter and Oliver Vogel, Executive Producers for Bavaria Fernsehproduktion, commented, "Few TV projects are as highly anticipated as the sequel to Das Boot - therefore the production preparations have been extremely intense and thorough, while also being very rewarding given the quality of creative we were able to put together. Now we're excited to open the next chapter on board U-612 and in La Rochelle and in locations across Europe with our internationally renowned actors and actresses, high calibre junior cast and acclaimed director Andreas Prochaska."
Carsten Schmidt, CEO of Sky Deutschland, added, "It's fantastic that we will start filming only a year after we announced this project. Das Boot perfectly suits our range of top class Sky Original Productions. Babylon Berlin, 8 Tage, Der Pass, Der Grenzgänger and Das Boot – series fans can only find these on Sky."
"In a time when the word 'classic' has become over-used and trivialized, Das Boot is one of those rare, true originals that without question fits the description," said Jenna Santoianni, EVP, Television Series, Sonar Entertainment. "The film – and the book it is based on – have both earned enormous acclaim. This new production – supported by tremendous writing, an acclaimed international cast and crew, stunning locations and a budget more commonly associated with feature films - will be a fitting sequel to the iconic work that it follows."
The eight-episode series is a sequel to Lothar-Günther Buchheim's novel of the same name "Das Boot" and on the international blockbuster film from 1981. The story starts in autumn 1942, as U-boat warfare becomes increasingly brutal. While a very young crew put out to sea on a dangerous combat patrol, the Résistance rises in the U-boat port of La Rochelle. The plot is enriched with the warfare of the Allies on land and at sea. Buchheim's key issue - blind fanaticism pushing young men into a pointless war - will be the overall focus, which, unfortunately, in these times of terrorism hasn't lost any of its relevance.